The Zeigler's Action Plan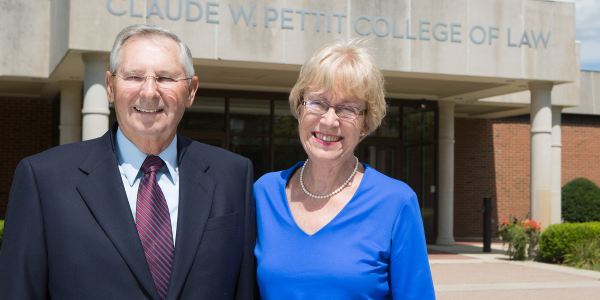 Due to its small size and emphasis on ethics, Ohio Northern University's Claude W. Pettit College of Law offered Fred Zeigler, JD '69, a distinctively refining experience, instilling ethical values that endure in the way he practices law today.
Fred recognizes that being an effective lawyer requires much more than just intelligence alone. "It takes more than brains," he says. "You have to be truthful and very honest as far as representing a client and being very dedicated to that client. More than anything else, you need to be hardworking."
Fred and his wife, Suzie, are doing their part to help ONU continue to produce effective lawyers through the Fred and Suzie Zeigler Scholarship. The first of its kind, the scholarship is expressly for students enrolled in the College of Law's Summer Starter Program, an eight-week program designed to give a head start to students with outstanding undergraduate performance indicative of probable academic success in law school, despite a lower LSAT score.
Philanthropy has been a longtime priority for the Marion, Ohio, couple. They are grateful for the opportunities Fred's ONU education has given them. Since they have no children, having close relatives for beneficiaries is not a plausible option for their estate planning. However, the couple has found several meaningful causes to aid and has included ONU in their planned giving.
The Zeiglers are very involved in the Marion Community Foundation, a community-centric organization that supports several different charities and provides scholarships for people in their hometown. ONU will be included in the Zeiglers' trust with the Marion Community Foundation, and Fred has even made Ohio Northern the beneficiary of his IRA.
A retired nurse, Suzie, too, values philanthropy and does charity work, regularly traveling and delivering meals to those in need, just to name one cause that she supports.
"It's just rewarding," Suzie says. "You get a lot of satisfaction to see how you can help, even at the small scale."
Looking ahead, Fred plans to retire within the next few years, hoping to cap his professional career at the 50-year mark. Once retired, he and Suzie plan on traveling and enjoying retirement together. Thanks to their generosity, no matter where they are, they will always take solace in knowing that back in Ada, Ohio, some young law student is getting the same shot at becoming a lawyer that Fred got from ONU.