Stephen and Mary Hailer give thanks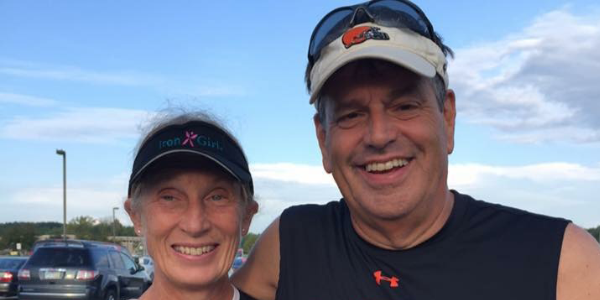 When Stephen Hailer laces up his running shoes to go for a jog, the memories come rushing back. As he runs, he thinks about his life and the people he's met over his 68 years. He thinks about Ohio Northern a lot. After all, it's where running became a part of his life, where he found his calling, and where he met Mary Bunce.
He saw her across the Taft Gym dance floor his first weekend in Ada at age 18. He turned to a friend and said, "See that girl over there? She's about to trade up." But instead of sweeping her off her feet, the normally gregarious boy from Boston froze where he stood before running out the door. It was the first time Stephen ran at ONU. It would not be the last.
In 1968, running was not nearly as popular as it is today. In fact, seeing someone out jogging was rare enough that, when the cross country coach spotted Stephen running one afternoon, he recruited him right on the spot.
By the end of his first year at Northern, Stephen was running cross country, dating Mary and studying to become a pharmacist. Little did he know that he had set a course that would follow for the rest of his life … almost. After four years in the pharmacy program, Stephen came to realize that he didn't actually want to be a pharmacist. The aspect of his education that he liked most was learning how to run a retail pharmacy business. It was business he truly loved, and since he was a distance runner and not a sprinter, the idea of taking a bit longer to earn his degree didn't bother him at all.
When Stephen finally graduated, he and Mary were married and she was a pharmacist. At 29, he became the CEO of Home Savings Bank in Wapakoneta, Ohio, only four years after earning his degree.
"I can trace a lot of the success I've enjoyed in life to the principles and the education I got at Ohio Northern. And the people I met there. There are just so many folks who touched my life, far too many people to name."
To that end, the Hailers established a charitable gift annuity to support the men's and women's cross country programs as a way to thank those who helped them along the way. The gift will provide them with an income and then ensure that future students also have an opportunity set their course at ONU.
This Labor Day, the Hailers will run together at ONU's first cross country meet of the year. For Stephen, it will mark the 50-year anniversary of his first race, and for Mary -who has become quite an accomplished runner herself - a chance to represent the generations of women who, in those pre-Title IX days, were never asked to run.
"We've had such a great life. There's nothing we would change. You change one thing, you change it all."